Impact provided Wipak with a solution for easy auditing and efficient safety management
Wipak Group is one of the leading flexible packaging companies in which the Impact solution has been used since 2016. Impact was introduced because previous methods for carrying out 5S and other security audits, among others, did not meet the company's needs.
"We wanted an agile tool for auditing as easily as possible, and the tool had to be quickly scalable for all our factories. The ability to manage and monitor the information in one system is important for us," says Wipak Group's Aki Pönniö (Operations Analyst, Process Owner PE).
According to Pönniö, the Impact solution responded to these needs, because in Impact, audits and other safety observations are effortlessly carried out on a mobile phone or tablet. In addition, with Impact, the demonstration of corrective measures and monitoring of their implementation is clear and efficient.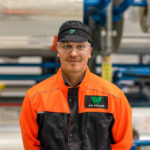 Impact has been developed in house and in collaboration to meet Wipak's needs
The implementation of the Impact solution was straightforward at Wipak, and the Wipak people learned how to use Impact quickly. Communication and development of the solution with the Impact team has also gone well from the start.
"Over the years, the use of Impact at Wipak has developed a great deal — both through our efforts in house and in collaboration with the Impact team. We have always been answered quickly, whether it's a development idea, a suggestion for improvement or another question," Pönniö says. For Wipak, one of the important development items of Impact is an interface where the collected data can be viewed directly in their own reporting systems. It makes it possible to see, for example, the number of audits of different production facilities, their results and corrective measures, and the type of safety problems reported most through their own systems.
At Wipak, the introduction of Impact accelerated the halving of accidents
Pönniö cites Impact's most significant benefits of ease of use and comprehensive safety analyses from a single source of information as Impact's most significant benefits. He believes Impact is a reliable and fast tool for auditing and, together with other measures, has significantly improved safety at Wipak.
"The frequency of accidents has been halved in recent years. One important aspect of success has, of course, been the use of Impact, but also the sharing of best practices among factories, as well as analysis of the root causes of accidents with corrective measures," Pönniö adds.
At Wipak, the development of safety culture starts at the highest level. In fact, all production facilities regularly use Impact to carry out Management Safety Walking audits, which are led alternately by the factories' CEOs, members of the management team and other directors. Investing in safety culture is also reflected in Wipak's everyday life.
"We sustain an open conversation on safety all the time, and our staff are encouraged to observe potential risks together. Through the use of Impact, our employees see management's commitment to safety when audits are also carried out by managers. Impact also makes it easy for managers to monitor the company's security situation. All of this has contributed to the fact that we have significantly reduced the number of accidents at work," says Pönniö.

Wipak is part of the multi-sector Wihuri Group. Wihuri is an international Finnish family company that can trace its origins back over 120 years. Today the Wihuri Group employs 5,000 people with operations in 30 countries. Wihuri's Packaging business is one of the world's leading producers of packaging materials and solutions for the Food and Medical supply industries in Europe, Asia and North America. Wihuri's Packaging Division consists of two international brands: WIPAK in Europe and Asia and WINPAK in North America. Impact is a solution which Wipak uses globally.